What is Emboli Detection?
Cerebral emboli are particles or air bubbles that originate anywhere in the human body and travel through the arterial circulation into the arteries of the brain.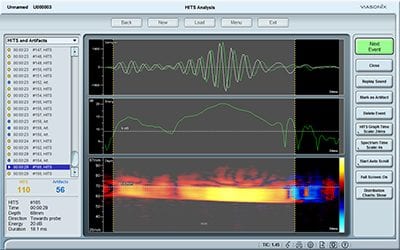 These particles or air bubbles may clot and occlude the brain's arteries, resulting in a sharp local decrease in brain flow that can cause a stroke. Cerebral emboli can be either solid or gaseous:
Solid emboli, such as atherosclerotic plaques or blood clots, typically originate in the carotid arteries or from the heart.
Air bubbles (gaseous emboli) can originate from sources outside the body, such as during surgical procedures or internally, for example, from Aortic valves or during decompression.  
How to use TCD for Cerebral Emboli Detection
The risk of cerebral embolization in the intracranial arteries is in immediate impaired perfusion to the tissue of the brain, which may lead to transient ischemic attack (TIA), stroke, traumatic brain injury (TBI), and sudden death. Fortunately, emboli that travel with the bloodstream have distinct characteristics which can be detected by TCD ultrasound equipment.
Transcranial Doppler sonography can detect the embolic events in the blood flow velocity waveforms, which are typically characterized by:
Emboli have high spectral energy compared to the surrounding blood flow,
Emboli are unidirectional – they travel either towards the probe or away from the probe,
Emboli traveling within the blood vessel, therefore, appear within the Doppler spectrum,
Emboli are typically short in duration, flowing with the bloodstream through the sample volume,
Emboli have a typical "chirping" or "bleeping" sound, making it sound distinctly different than the standard blood flow.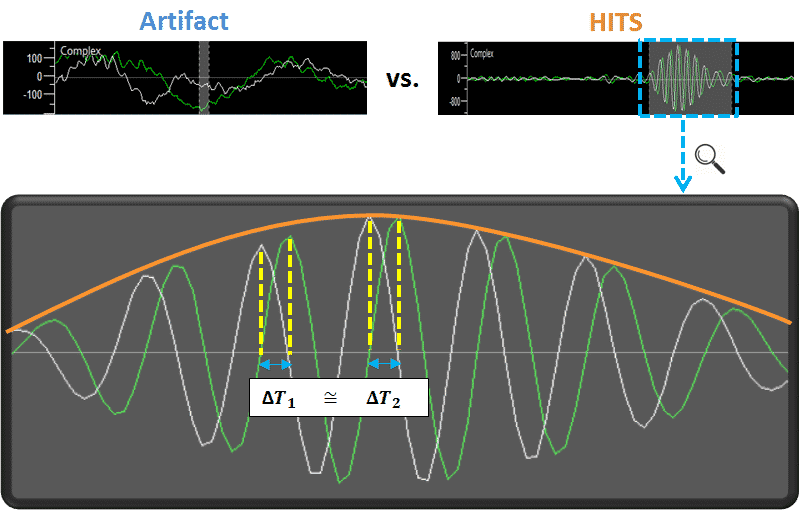 Detecting HITS With Power M Mode
While regular Power M Mode are usually calculated in time resolution of 8ms, new M Mode technology displays ultra-high time resolution Power M Mode that allows zooming in on the M Mode screen at 125 microsecond resolution.
Short embolic events lasting 8 milliseconds, which are normally displayed as a single spectral or M Mode column, can be "zoomed in" for display across the screen.


What is High Intensity Transient Signals (HITS) Detection?
Emboli are often also called HITS – High Intensity Transient Signals. Many TCD equipment manufacturers use the term HITS with relation to embolic signals. 
TCD ultrasound is widely used for different clinical applications to detect and count cerebral emboli. Among the most common applications of Embolus Detection are:
Emboli count during the PFO "bubble test" to help detect a Patent Foramen Ovale, which is a hole between the right and left atria of the heart.
Emboli monitoring and count during surgical procedures. The most common surgeries requiring emboli monitoring are carotid endarterectomy and coronary artery bypass grafts (CABG).
Emboli monitoring for patients with transient ischemic attacks, carotid stenosis, and high risk of stroke.
Cerebral emboli monitoring (or HITS detection) usually requires the use of a special headframe or headset that is placed on the head. Then, 2 Doppler probes of 2 MHz Doppler frequency are fixed on each side in the region of the right and left temporal windows.
The most common cerebral artery that is monitored during emboli detection is the Middle Cerebral Artery (MCA). Specifically, Bilateral monitoring requires obtaining signals from both the right and left MCAs.
Using the Dolphin TCD for Emboli Detection
The Viasonix Dolphin transcranial Doppler machine has the most advanced HITS detection, emboli monitoring, and analysis platform. It has dedicated emboli signal analysis screens to show the specific embolic characteristics, such as its energy, velocity, and duration patterns, as well as display the travel route of the suspected emboli in the time and depth domains.
The Dolphin TCD intelligent software allows using both common types of M Mode displays:
The standard Phasic M-Mode display, which is designed to assist the users in quickly finding the target blood vessel of interest, and
The special Power M-Mode display, which is very sensitive to traveling embolus. Such embolic signals have a marked energetic signature in the Power M-Mode display.
Additionally, the Dolphin Ultra-high time resolution provides unmatched emboli differentiation, with analysis and display at the superior technology of 125-microsecond resolution. With such a high time scale, Dolphin TCD users can zoom in on special embolic events such as embolic showers during Bubble Study or when releasing the aortic or carotid clamps during surgery.
Furthermore, due to its powerful multi-range and multi-depth analysis capabilities, the Dolphin TCD technology and software can detect embolic events that are not even within the measured spectrum of the central depth.
Unlike the headsets offered by most other TCD system manufacturers, the standard Dolphin TCD monitoring headset has a unique quick clamp design that allows fast and stable bilateral assembly on the patient's head. This feature enables the TCD examiner to locate the probe in the region of interest optimally and then lock it in place without the risk of the probe moving during the locking process.
Finally, the Dolphin TCD equipment also offers the ideal option for emboli detection and monitoring using a bilateral TCD robotic probe. The Dolphin/XF emboli detection robot is placed simply and comfortably over the patient's head. Then, the advanced Dolphin robot software with unique technology that automatically searches the brain and detects cerebral blood flow for long-term HITS detection monitoring of cerebral emboli.
Expected Results of Emboli Detection
Bilateral transcranial doppler monitoring for embolic signals is often performed in patients with a suspected transient ischemic attack (TIA), which may lead to stroke. A high emboli count normally indicates a high risk for stroke and the requirement for immediate clinical intervention.  
When monitoring emboli during the Bubble Study procedure, a high microembolic signals (MES) count and the presence of a microemboli shower suggest the existence of a patent foramen ovale (PFO). Thus, the size of the hole between the heart atria can be estimated based on this embolic count.  
Bilateral emboli or HITS TCD monitoring is also common in many surgical procedures. A shower of cerebral emboli during a specific procedure helps the surgeon improve and adjust future procedures to minimize the risk of releasing an emboli shower into the brain. Such examples include releasing the Carotid clamp during Carotid Endarterectomy procedures or releasing the Aortic clamp during cardiac surgeries such as coronary artery bypass grafts or cardiac valve replacements.  
Selected Literature for TCD Monitoring
Doppler Embolic Signals in Cerebrovascular Disease and Prediction of Stroke Risk A Systematic Review and Meta-Analysis Alice King and Hugh S. Markus, Stroke. 2009; 40:3711-3717
Transcranial Doppler ultrasonography in neurological surgery and neurocritical care, Robert H. Bonow, Christopher C. Young, David I. Bass, Anne Moore, and Michael R. Levitt, Neurosurg Focus 47 (6):E2, 2019
Transcranial Doppler is Complementary to Echocardiography for Detection and Risk Stratification of Patent Foramen Ovale.  Tobe et al., Canadian Journal of Cardiology 32 (2016)
Improved Detection of Microbubble Signals Using Power M-Mode Doppler. Maher Saqqur et al., Stroke. 2004; 35:e14-e17.
Transcranial Doppler: Techniques and advanced applications: Part 2, Sharma AK, Bathala L, Batra A, Mehndiratta MM, Sharma VK, Ann Indian Acad Neurol. 2016 Jan-Mar;19(1):102-7
Association of homocysteine and smoking with cerebral microemboli in patients with mechanical heart valves: a transcranial Doppler study. Mattia A, Azarpazhooh MR, Munoz C, et al. Stroke and Vascular Neurology 2017;0: e000117
Transcranial Doppler ultrasonography in anaesthesia and intensive care, I. K. Moppett and R. P. Mahajan, British Journal of Anaesthesia 93 (5): 710–24 (2004)
How to identify which patients with asymptomatic carotid stenosis could benefit from endarterectomy or stenting.  Paraskevas KI, Veith FJ, Spence JD. Stroke and Vascular Neurology 2018;3: e000129.
Neuro-ultrasonography, Ryan Hakimi, Andrei V. Alexandrov, and Zsolt Garami, Neurol Clin 38 (2020) 215–229
Transcranial Doppler, Review Article, Manish K. Marda, Hemanshu Prabhakar, J Neuroanaesthesiol Crit Care 2015;2:215-20
Disclaimer of Information & Content
The content of Viasonix Ltd. website is for information only, not advice or guarantee of outcome. Information is gathered and shared from reputable sources; however, Viasonix Ltd. Management is not responsible for errors or omissions in reporting or explanation. No individuals, including those under our active care, should use the information, resources or tools contained within this self-diagnosis or self-treat any health-related condition. Viasonix Ltd. Management gives no assurance or warranty regarding the accuracy, timeliness or applicability or the content.