What is Emboli Detection?
Cerebral emboli can take the form of atherosclerotic plaques, air bubbles or blood clots. An embolus has distinct characteristics which allow to identify it when it travels within the blood stream.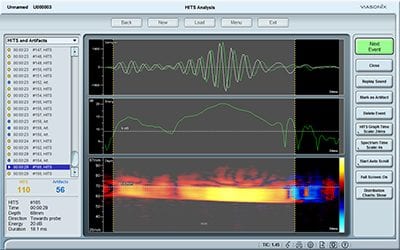 The risk of cerebral embolization is in immediate impaired perfusion to the tissue of the brain, which may lead to stroke and sudden death.
TCD can detect the embolic signals in the blood flow velocity waveforms, which are typically characterized with:
High energy
Unidirectional
Traveling within the blood spectrum
Short in duration
Typical "chirping" or "bleeping" sound
High intensity transient signals (HITS) are often considered as embolic events. The Viasonix Dolphin has the most advanced HITS detection and analysis platform. Dedicated HITS Analysis screens show the specific embolic characteristics, such as its energy, velocity and duration patterns, as well as display its travel route in the time and depth domains. A special Power M Mode with an Ultra-high time resolution provides the option to zoom in on the m-mode screen at 125 micro-second resolution.
Furthermore, the Dolphin can optionally detect embolic events that are even not within the measured spectrum of the central depth, due to its powerful multi-range and multi-depth analysis capabilities.
Example of a HITS Detection measurement performed with Viasonix Dolphin/MAX showing a suspected Emboli, also known as HITS
Disclaimer of Information & Content
The content of Viasonix Ltd. website is for information only, not advice or guarantee of outcome. Information is gathered and shared from reputable sources; however, Viasonix Ltd. Management is not responsible for errors or omissions in reporting or explanation. No individuals, including those under our active care, should use the information, resources or tools contained within this self-diagnosis or self-treat any health-related condition. Viasonix Ltd. Management gives no assurance or warranty regarding the accuracy, timeliness or applicability or the content.