Cerebral Vasospasm is one of the major complications after Subarachnoid Hemorrhage (SAH) as a result of an aneurysm rupture or head injury. The outcome of vasospasm is the reduction of the arterial cross-sectional area due to extended arterial vasoconstriction or external mechanical forces.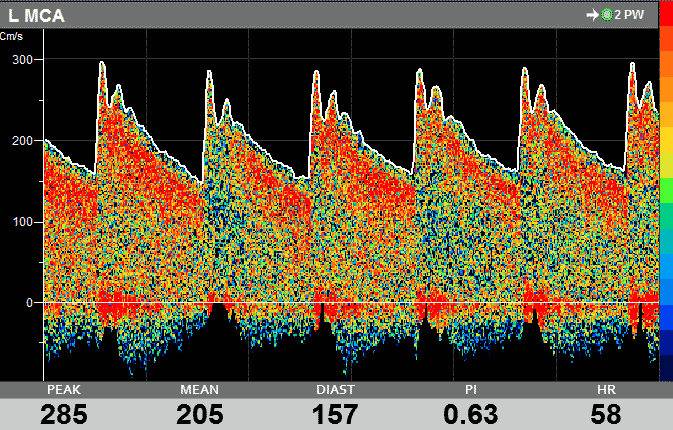 Significant arterial narrowing resulting from SAH may take around a week to develop and present detrimental clinical conditions. Early detection of vasospasm is critical since it allows timely intervention.  TCD is rather specific for this condition since it allows simple, non-invasive, and continuous bedside monitoring of vasospasm development.  
How to use TCD for Vasospasm and SAH
Vasospasm results in a decrease of the arterial lumen. As long as the cerebral blood flow volume does not decrease significantly, the decreased arterial cross-sectional area will cause the Doppler blood flow velocities to increase significantly. Thus, with TCD, the anterior and posterior blood flow velocities can be mapped and diagnosed for suspected vasospasm.  
Furthermore, since the volume blood flow is not expected to decrease until the autoregulatory capacity is exhausted, the ratio of cerebral velocities to the extracranial Internal Carotid Artery (ICA) are additional parameters for the identification of vasospasm. 
Typical ratios are defined as follows: 

An increase in these ratios is suggestive of cerebral vasospasm.  
Using Dolphin for Vasospasm
Vasospasm is a developing pathology and usually requires day by day monitoring of blood flow velocity values. The Dolphin system has a dedicated Vasospasm Protocol that allows setting the velocity thresholds to identify the vasospasm severity immediately. Also, the Lidegaard Ratio, Sloan Ratio, and Soustiel Ratio are automatically calculated, displayed, and printed in the examination report.
In addition, an advanced trend analysis of the cerebral velocities and pulsatility indices is provided in order to help identify the vasospasm progression and the critical time for immediate clinical intervention.
When diagnosing vasospasm, it is critical to identify the highest mean and peak blood flow velocities.
The Dolphin provides an ideal platform for that with the ability to go back in time or change depth even after the measurement is freezed to improve the detected Doppler waveform or identify higher velocities.
Furthermore, advanced offline analysis platforms allow the physicians to review the measurements in their office and scan along the time and depth axis for additional quality review and validation of the selected highest intracranial velocities.
The severity of vasospasm is generally determined as a function of the mean velocity in the vessel of interest and the ratio to the ICA mean velocity. There are several different criteria, and some options are listed here.
In the MCA, the severity of vasospasm is sometimes defined as:
| MCA Mean Velocity | Lindegaard Ratio | Diagnosis |
| --- | --- | --- |
| 120 ≤ Mean < 150 | 3 ≤ LR < 4.5 | Mild Vasospasm |
| 150 ≤ Mean < 200 | 4.5 ≤ LR < 6 | Moderate Vasospasm |
| Mean ≥ 200 | LR ≥ 6 | Severe Vasospasm |
Vasospasm in the PCA is considered if the Mean Velocity > 85 cm/s
Vasospasm in the ACA is considered if the Mean Velocity > 80 cm/s and the Sloan Ratio > 4.0
| Basilar Mean Velocity | Soustiel Ratio | Diagnosis |
| --- | --- | --- |
| Mean > 70 | SR > 2 | Mild Vasospasm |
| Mean > 85 | SR > 2.5 | Moderate Vasospasm |
| Mean > 85 | SR > 3 | Severe Vasospasm |
An example of the post-processing capabilities of Viasonix Dolphin system showing unique post processing capabilities that are particularly useful with Vasospasm diagnosis.
Assessment: transcranial Doppler ultrasonography: report of the Therapeutics and Technology Assessment Subcommittee of the American Academy of Neurology. Sloan MA et al., Therapeutics and Technology Assessment Subcommittee of the American Academy of Neurology.  Neurology. 2004 May 11;62(9):1468-81
Transcranial Doppler: Techniques and advanced applications: Part 2, Sharma AK, Bathala L, Batra A, Mehndiratta MM, Sharma VK, Ann Indian Acad Neurol. 2016 Jan-Mar;19(1):102-7
Ultrasound Assessment of the Intracranial Arteries, Nabavi, Ritter, Otis, and Ringelstein, Introduction to Vascular Ultrasonography, By John Pellerito, MD and Joseph F Polak, 2012
Cerebral vasospasm after subarachnoid hemorrhage, David W. Newell & Andrei V. Alexandrov, In Cerebrovascular Ultrasound in Stroke Prevention and Treatment, Edited by Andrei V. Alexandrov, 2011 Blackwell Publishing Ltd., Chapter 11
Neuro-ultrasonography, Ryan Hakimi, Andrei V. Alexandrov, and Zsolt Garami, Neurol Clin 38 (2020) 215–229
Transcranial Doppler, Peter J. Kirkpatrick and Kwan-Hon Chan, Chapter 13, in Head Injury. Edited by Peter Reilly and Ross Bullock. Published in 1997 by Chapman & Hall, London
Prediction of Symptomatic Vasospasm After Subarachnoid Hemorrhage by Rapidly Increasing Transcranial Doppler Velocity and Cerebral Blood Flow Changes, D.G. Grosset et al., Stroke 1992;23:674-679
Transcranial Doppler monitoring in subarachnoid hemorrhage: a critical tool in critical care, Andrea Rigamonti, Alun Ackery and Andrew J. Baker, CAN J ANESTH 2008 / 55: 2 / pp 112–123
Clinical diagnosis of cerebral vasospasm after subarachnoid hemorrhage by using transcranial Doppler sonography, D.-D. LI, J.-Y. CHANG, C.-X. ZHOU and J.-B. CUI, European Review for Medical and Pharmacological Sciences, 2018; 22: 2029-2035
Monitoring cerebral vasospasm: How much can we rely on transcranial Doppler, Navneh Samagh, Hemant Bhagat, and Kiran Jangra, J Anaesthesiol Clin Pharmacol. 2019 Jan-Mar; 35(1): 12–18
Advances in Transcranial Doppler US: Imaging Ahead, Jonathan D. Kirsch et al., RadioGraphics 2013; 33:E1–E14
Disclaimer of Information & Content
The content of Viasonix Ltd. website is for information only, not advice or guarantee of outcome. Information is gathered and shared from reputable sources; however, Viasonix Ltd. Management is not responsible for errors or omissions in reporting or explanation. No individuals, including those under our active care, should use the information, resources or tools contained within this self-diagnosis or self-treat any health-related condition. Viasonix Ltd. Management gives no assurance or warranty regarding the accuracy, timeliness or applicability or the content.