What is Ankle Brachial Index (ABI)?
The Ankle Brachial Index is a standard and common method of physiologic assessment of vascular pathology in the lower limbs in a fast and simple manner.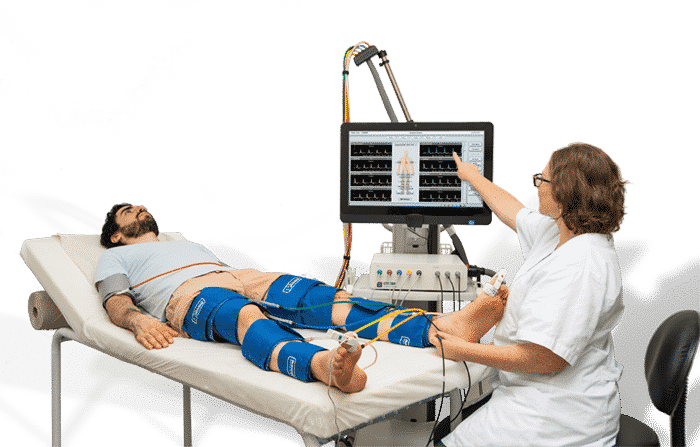 Ankle Brachial Index (ABI) test assists in the early detection of Peripheral Arterial Disease (PAD) and provides information about its functional severity. During the ABI test, the primary Systolic pressures are measured in each of the right and left brachials, as well as at the level of the right and left ankles. Ankle Brachial Index, or ABI, is determined as the ratio between the higher brachial systolic pressure and each of the ankle pressures. Thus, a separate ABI value is obtained for the Right side and the Left sides.

Unlike ultrasound imaging modalities which provide anatomical information, ABI assessment provides a direct indication of the physiological severity of the vascular pathology, such as Peripheral Arterial Disease. ABI testing machines are often used for fast and simple screening of the lower limbs, prior to determining if ultrasound imaging is required.Ank
How to Measure Ankle Brachial Index?
Measuring the Systolic blood pressure with an ABI machine is simple and requires blood pressure cuffs and a sensor. 
Once a blood pressure cuff is wrapped around the measured site, a distal Doppler or Photoplethysmograph (PPG) waveform is obtained. The cuff is then inflated until the distal signal disappears as a result of the total occlusion. The blood pressure cuff is then deflated in a controlled manner, and the pressure at which the distal signal re-appears is determined as the systolic pressure.
An extension to the basic ABI test is the complete noninvasive physiologic studies of lower extremity arteries. It includes placing cuffs not only on the Ankles but also on other segments of the legs. This type of test is detailed in the Segmental Blood Pressures section. 
Another important extension is performing ABI before and after an induced stress activity such as walking, treadmill, and tiptoes. This type of test is detailed in the Exercise Stress TestTest section. 
What is the Most Clinically Accepted ABI Test Method?
Using Doppler to measure the distal waveform is the traditional and clinically accepted method. Usually, ABI is calculated at both Doraslis Pedis Artery and Posterior Tibial Artery. The higher ABI on each side is then taken as the final result to assess Peripheral Arterial Disease (PAD) severity in each leg. Furthermore, Doppler measurement is the recommended clinical method to receiving full reimbursement on CPT codes 93922, 93923, and 93924. The different codes differ in their level of complexity, but all are based on the ABI Doppler method.
Other methods for testing ABI are Photoplethysmograph (PPG) sensors and Oscillometric devices. Both are less accurate than the Doppler, especially under challenging conditions, which is likely why these methods are not reimbursable under CPT Codes 9392#.
Receiving full reimbursement for this test, especially for CPT Code 93924, may prove difficult or impossible with the less accurate methods such as PPG and Oscillometry. The accepted method uses a diagnostic device such as the Falcon/PRO that provides integrated protocols and reporting for ABI on both Dorsalis Pedis and Posterior Tibial, Segmental Blood Pressures, and Treadmill test.
Using the Falcon for ABI measurements
The Falcon is considered to be the best ankle brachial index machine as it allows very simple and fast diagnosis of ABI. Simply place 4 color-coded pressure cuffs on each of the right/left brachial and ankle sites, select the ABI protocol, and you are ready to go. The ABI test can be completed in just a couple of minutes.
The Falcon is also known as a peripheral vascular diagnosis system as it allows you to select from a wide variety of Doppler probes and PPG sensors for best outcome. All Doppler probes, PPG sensors and pressure tubes are color coded to allow optimal user interface and correlation with the dedicated software. The target inflation pressure, as well as the deflate rate and various other parameters can be customized by the user for optimal measurements.
Numerous other features and options of the Falcon system, such as automatic cuff inflation once a signal is identified, or simultaneous measurements, display of contralateral results, and many more options, are designed to simplify the use of the Falcon ABI physiologic system in a fast and efficient way.
Once the distal Doppler or PPG waveform reappears during the deflation phase of the pressure cuff, the measurement can be stopped, and the Falcon places a cursor to mark a potential systolic pressure. The user may move the cursor to a different location, and the systolic pressure is changed accordingly. R/L ABI are calculated automatically by the Falcon and presented clearly on the screen and in the report layout.
Expected Results of ABI Test
According to many international guidelines, such as the AHA, Peripheral Arterial Disease severity is diagnosed and evaluated using ABI as follows:
| Range | Common Diagnosis |
| --- | --- |
| ABI ≥ 1.4 | Non compressible arteries |
| 1 ≤ ABI < 1.4 | Normal |
| 0.9 ≤ ABI < 1 | Borderline |
| ABI ≤ 0.9 | Abnormal |
An ABI ratio of around 1 is considered normal, while lower values indicate various levels of significant peripheral arterial disease (PAD) and higher ABI values represent incompressible arteries which are typically associated with higher vascular stiffness.
Example of an ABI test performed on a patient using Viasonix Falcon/PRO ABI Doppler machine. The sensor used in this case is 8 MHz Doppler probe.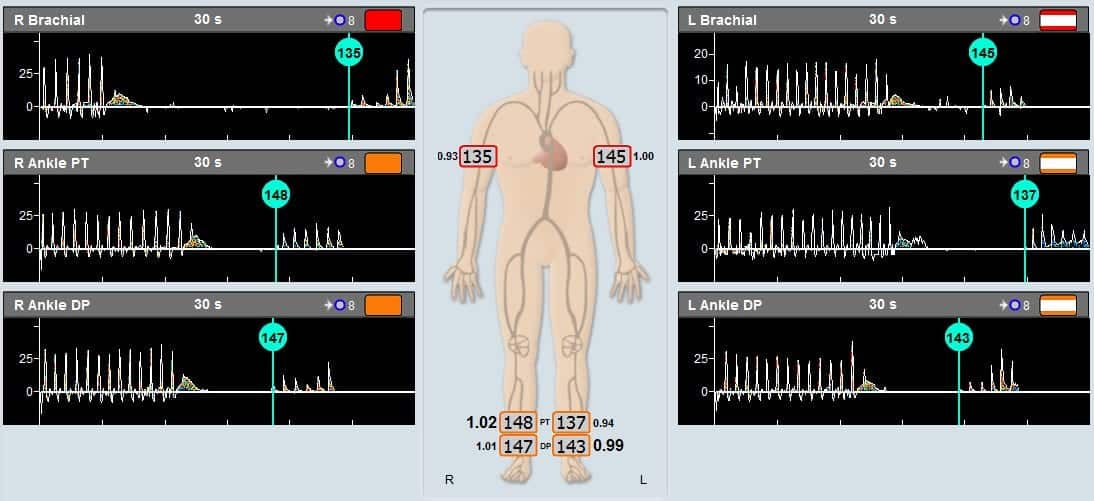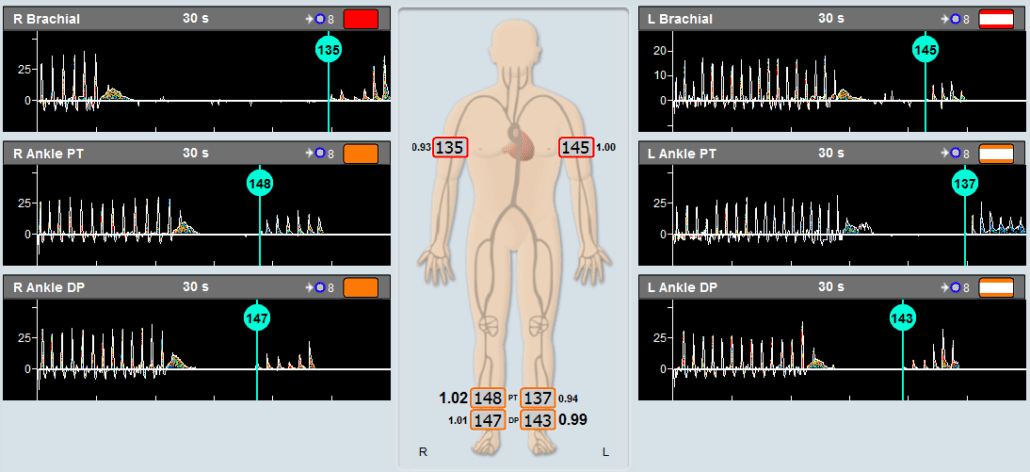 Selected Literature for Ankle Brachial Index Testing
Disclaimer of Information & Content
The content of Viasonix Ltd. website is for information only, not advice or guarantee of outcome. Information is gathered and shared from reputable sources; however, Viasonix Ltd. Management is not responsible for errors or omissions in reporting or explanation. No individuals, including those under our active care, should use the information, resources or tools contained within this self-diagnosis or self-treat any health-related condition. Viasonix Ltd. Management gives no assurance or warranty regarding the accuracy, timeliness or applicability or the content.