Cerebral monitoring using 2 MHz Transcranial Doppler sonography is the short- or long-term TCD monitoring of blood flow in one of the blood vessels comprising the Circle of Willis, typically the MCA (Middle Cerebral Artery).
TCD Monitoring is an important tool for detecting cerebral ischemia as well as following symptomatic carotid stenosis or monitoring during Carotid Endarterectomy, coronary artery bypass graft surgery (CABG), and other surgeries that require anesthesia. Using transcranial doppler is well recognized by many clinical international societies, including the American Heart Association (AHA).
Cerebral monitoring can be either unilateral or bilateral.
Unilateral monitoring reflects following the changes in the velocity on one side of the brain.
Bilateral monitoring is the simultaneous measurement of flow on both the right and left sides of the brain, typically the middle cerebral artery and the ipsilateral MCA.
During Transcranial Doppler ultrasonography monitoring in the middle cerebral artery, the focus is on following the trends in velocities over time, timely detection of changes in Intracranial Pressure (ICP), or identifying special events during the monitoring session such as embolic events.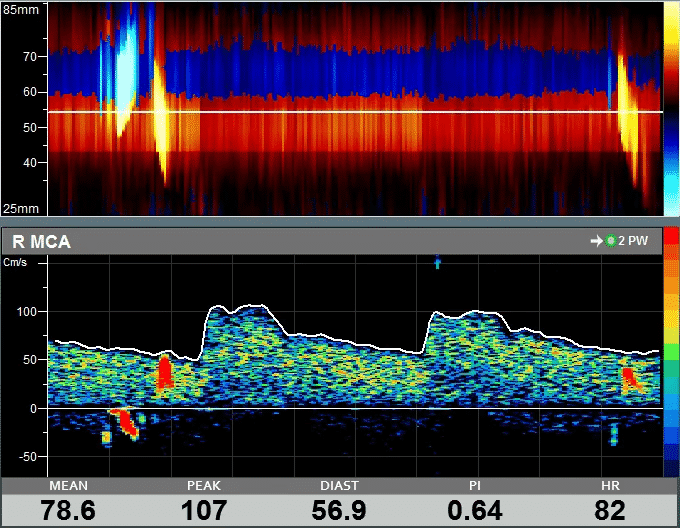 How to use Transcranial Doppler for Cerebral Monitoring
Monitoring of blood flow in the brain can be critical for the identification of neurological complications. Relative and/or sudden changes in MCA velocity, for example, can become a powerful diagnostic tool and affect the immediate clinical intervention.
Transcranial Doppler is ideally designed for short-term monitoring and long-term monitoring of MCA velocity. It is actually the only modality that allows non-invasive bedside monitoring of cerebral flow. Transcranial doppler TCD monitoring in patients is particularly useful in detecting MCA velocity. This diagnosis has clinical value in detecting cerebral vasospasm, doppler monitoring during carotid endarterectomy and carotid endarterectomy stroke, symptomatic carotid stenosis, intraoperative transcranial doppler, intraoperative monitoring, stroke and transient ischemic patients, embolic events, shunt surgery, and more neuro clinical applications.
The TCD equipment typically includes a dedicated headset or headgear that can hold two TCD probes and manually fix the probes to the monitoring region of the right or left regions of the temporal windows.

Many times, Transcranial Doppler sonographers have to struggle with fixing the headgear on the Middle Cerebral Artery of patients through their Temporal Window. This time-consuming process gets even more complicated with bilateral monitoring when both Middle Cerebral Arteries on both sides are insonated simultaneously. Furthermore, during intraoperative transcranial Doppler monitoring, such as Carotid Endarterectomy, it is critical to keep the signal stable, and losing it means having to relocate the probes on the Middle Cerebral Artery and fix them again.
As a result, over recent years, selected TCD equipment manufacturers designed automated Transcranial Doppler robots as a fast and much simpler monitoring solution. Frequently, TCD robotics can be operated by the medical staff without professional neurosonologists.
Clinical Importance of TCD Cerebral Monitoring
During TCD monitoring, trends of the changes in various Doppler parameters are displayed as a function of time. These parameters may include Peak, Mean and Diastolic blood flow velocities as well as various pulsatility indices, including PI, RI, and S/D. In addition, embolic signals are monitored and counted. Embolic events, for example, during flow reversal, increases the risk of perioperative stroke.
Timely assessment of sudden changes in velocities can be critical for proper patient care. This urgency is particularly important when monitoring vasospasm patients with or without increases in Cerebral Pressure (ICP) or when monitoring patients intraoperatively in the operating room (OR). Transcranial Doppler (TCD) allows simple, immediate, and non-invasive assessment of cerebral blood flow.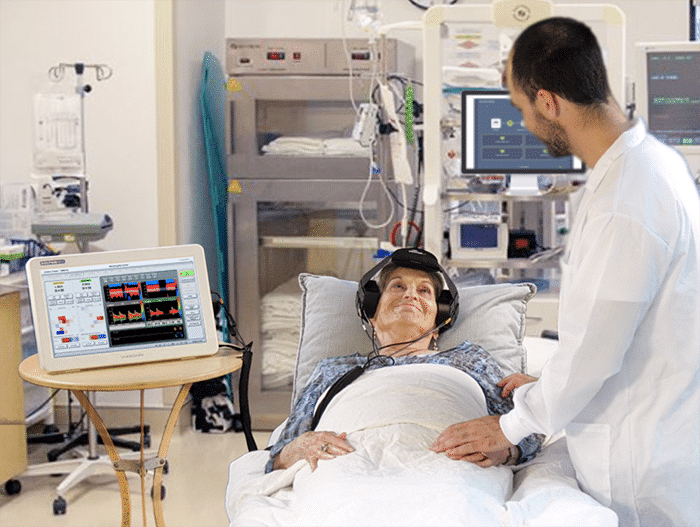 Using the Dolphin for Cerebral Monitoring
The Dolphin TCD Machine is ideally designed for optimal and simple TCD cerebral monitoring of bilateral blood flow.
The advanced Dolphin/XF TCD robotic probe is considered the best TCD robot for cerebral monitoring and clinical assessment, with high speed scanning technology and various other unique features. For users who are more accustomed to the traditional monitoring headset, the Dolphin TCD equipment offers the dedicated headset with the special quick-lock solution for simple locking of the probes in place.
The user-friendly and sophisticated Dolphin monitoring software allows continuous bilateral trending of multiple Doppler parameters, including blood flow velocities, pulsatility indices, and heart rate. Technicians can place event markers or alerts during the monitoring session to better identify and mark various clinical procedures and patient perturbations.
While the Dolphin TCD monitoring abilities are designed for long-term monitoring in the Neuro-ICU or the operating room, short-term bilateral monitoring is also available.
Short-term cerebral monitoring is instrumental during Cerebral Vasomotor Reactivity Testing (VMR), determination of Patent Foramen Ovale with the PFO test ("Bubble Study"), Breath Holding assessment for cerebral reserve, or emboli detection over a selected period of time.
Expected Results of Cerebral Monitoring
The primary interest of clinicians during long-term cerebral monitoring is the timely identification of changes in velocity. In Vasospasm patients, an increase in mean velocity over the course of time can suggest increased ICP, leading to the need to take immediate clinical actions. Likewise, if the monitored blood flow shows a sharp decrease in the cerebral flow during surgery, immediate intervention is typically also required.  
During short-term Transcranial Doppler monitoring, the emphasis depends on the test performed. During Emboli Detection, the focus is on the count of emboli traveling in the cerebral blood vessel. The count of micro-bubbles during the PFO test, also known as the bubble test, suggests the existence and the severity of a Patent Foramen Ovale. Similarly, the Breath-Holding Index (BHI) or VMR result suggests the viable or exhausted cerebral flow reserve with a high risk for stroke.  
Selected Literature for TCD Monitoring
Transcranial Doppler ultrasonography in neurological surgery and neurocritical care, Robert H. Bonow, Christopher C. Young, David I. Bass, Anne Moore, and Michael R. Levitt, Neurosurg Focus 47 (6):E2, 2019
Transcranial Doppler Monitoring of Intracranial Pressure Plateau Waves, Danilo Cardim et al., Neurocrit Care (2017) 26:330–338
The Role of Transcranial Doppler in Traumatic Brain Injury: A Systemic Review and Meta‑Analysis, Nida Fatima et al., Asian J Neurosurg 2019;14:626-33
Transcranial Doppler: Techniques and advanced applications: Part 2, Sharma AK, Bathala L, Batra A, Mehndiratta MM, Sharma VK, Ann Indian Acad Neurol. 2016 Jan-Mar;19(1):102-7
Transcranial Doppler ultrasonography in anaesthesia and intensive care, I. K. Moppett and R. P. Mahajan, British Journal of Anaesthesia 93 (5): 710–24 (2004)
Transcranial Doppler, Peter J. Kirkpatrick and Kwan-Hon Chan, Chapter 13, in Head Injury. Edited by Peter Reilly and Ross Bullock. Published in 1997 by Chapman & Hall, London
Neuro-ultrasonography, Ryan Hakimi, Andrei V. Alexandrov, and Zsolt Garami, Neurol Clin 38 (2020) 215–229
Transcranial Doppler, Review Article, Manish K. Marda, Hemanshu Prabhakar, J Neuroanaesthesiol Crit Care 2015;2:215-20
Disclaimer of Information & Content
The content of Viasonix Ltd. website is for information only, not advice or guarantee of outcome. Information is gathered and shared from reputable sources; however, Viasonix Ltd. Management is not responsible for errors or omissions in reporting or explanation. No individuals, including those under our active care, should use the information, resources or tools contained within this self-diagnosis or self-treat any health-related condition. Viasonix Ltd. Management gives no assurance or warranty regarding the accuracy, timeliness or applicability or the content.