What is Sickle Cell Disease?
Sickle Cell Disease (SCD) is a disorder of the blood caused by abnormal hemoglobin, which causes distorted (sickled) red blood cells. It is associated with a high risk of stroke, particularly in the early years of childhood.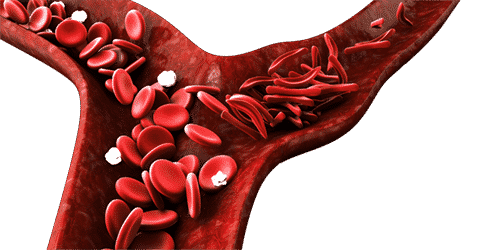 The main risk of Sickle Cell Disease is the potential for vascular constriction or occlusion, which may lead to subclinical infarction, acute stroke, and hemorrhage. Children before the age of 20 with SCD are particularly susceptible and are at high risk of developing ischemic stroke. Blood transfusion in these cases can help to reduce the risk of stroke significantly.
How to use TCD for Sickle Cell Disease
Transcranial Doppler (TCD) is a key non-invasive modality in identifying the risk of stroke in SCD patients. Various scanning protocols for SCD are available, but in general, velocity measurements are made in the anterior and posterior circulations for detection of high or otherwise abnormal blood flow velocities.
The vessels should be carefully scanned along their length. In children, the MCA scanning should start at a shallow depth, which is less than 40 mm. Optimized velocity recordings should be tracked along the vessel at a high depth resolution, with at least 2 mm depth increments. The ACA, PCA, and distal ICA should also be scanned.
While the Time Average Mean of the Maximum velocities (TAMM), also often called Mean velocity, is the parameter of choice that is used for the determination of SCD in most guideline protocols, some studies suggest that using the Peak velocity parameter can also be used for TCD screening of SCD.
Using Dolphin for SCD Test
The Dolphin has a dedicated Sickle Cell Disease (CSD) examination protocol. The protocol is designed to meet the guidelines of the STOP (Stroke Prevention in Sickle Cell Disease) study. It includes fixed velocity cursors that mark the normal and abnormal velocity thresholds per the guidelines.
The start-depth of the examinations is also allowing to start the vascular scanning at a shallow depth.
The incremental depth steps can be configurable to 2 mm per the STOP guidelines or at a much higher or lower resolution from 0.5 mm and up to 5 mm depth steps.
The Dolphin displays all relevant Doppler parameters, including the Mean Velocity, which is termed as TAMM in the STOP protocol. The phasic m-mode display is designed to quickly identify cerebral blood vessels, while the power m-mode display provides clear identification of transient high-intensity signals such as emboli passing through the artery. The advanced and unique HITS processing capabilities of the Dolphin allow detailed analysis and view of each suspected embolic event, which may lead to ischemic stroke.
The key guideline for TCD testing for SCD is the STOP (Stroke Prevention in Sickle Cell Disease) Study.
According to the STOP classification of Transcranial Doppler results in children with sickle cell anemia:
Normal: TAMM <170 cm/s
Conditional: TAMM >170 but < 200 cm/s in the middle cerebral artery and/or distal internal carotid artery TAMM >170 in posterior cerebral artery or anterior cerebral artery
Abnormal: TAMM ≥200 cm/s in the middle cerebral artery and/or terminal internal carotid artery
In addition, Inadequate classification is determined when a "study was unable to be read".
An example of a Sickle Cell measurement taken using Viasonix Dolphin system, showing automatic thresholds over the spectrum display.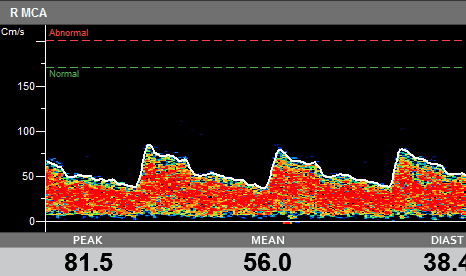 Stroke Prevention in Sickle Cell Disease (STOP) Study Guidelines for Transcranial Doppler Testing, Fenwick T. Nichols, Anne M. Jones, and Robert J. Adams, J Neuroimaging 2001;11:354–362
The Management of sickle Cell Disease, National Institutes of Health, Division of Blood Diseases and Resources, NIH Publication No. 02-2117, Revised June 2002
TCD and sickle cell disease, Fenwick T. Nichols III, Robert J. Adams, & Anne M. Jones, Chapter 7 in Cerebrovascular Ultrasound in Stroke Prevention and Treatment, Edited By Andrei V. Alexandrov, Blackwell Publishing, Inc., 2004
Assessment: transcranial Doppler ultrasonography: Report of the Therapeutics and Technology Assessment Subcommittee of the American Academy of Neurology. Sloan MA et al., Therapeutics and Technology Assessment Subcommittee of the American Academy of Neurology.  Neurology. 2004 May 11;62(9):1468-81
Stroke Prevention Trial in Sickle Cell Anemia (STOP): extended follow-up and final results, Margaret T. Lee et al., BLOOD, 1 AUGUST 2006, VOLUME 108, NUMBER 3
Transcranial Doppler screening in sickle cell disease: The implications of using peak systolic criteria, Lena N Naffaa, Yasmeen K Tandon, Neville Irani, World J Radiol 2015 February 28; 7(2): 52-56
Transcranial Doppler ultrasonography in neurological surgery and neurocritical care, Robert H. Bonow et al., Neurosurg Focus 47 (6):E2, 2019
Transcranial Doppler: Techniques and advanced applications: Part 2, Sharma AK, Bathala L, Batra A, Mehndiratta MM, Sharma VK, Ann Indian Acad Neurol. 2016 Jan-Mar;19(1):102-7
Transcranial Doppler, Review Article, Manish K. Marda, Hemanshu Prabhakar, J Neuroanaesthesiol Crit Care 2015;2:215-20
Disclaimer of Information & Content
The content of Viasonix Ltd. website is for information only, not advice or guarantee of outcome. Information is gathered and shared from reputable sources; however, Viasonix Ltd. Management is not responsible for errors or omissions in reporting or explanation. No individuals, including those under our active care, should use the information, resources or tools contained within this self-diagnosis or self-treat any health-related condition. Viasonix Ltd. Management gives no assurance or warranty regarding the accuracy, timeliness or applicability or the content.