Are you considering a new PAD system for your institute? You have probably noticed that most institutes, large or small, equip themselves with such a machine and there is a good reason for that.
While our clinical section describes the consensus clinical benefits at length, we would like to present the financial benefits your institute can profit from.  
What is a Physiological Vascular Testing?
Physiological Vascular Testing is a standard and popular medical test performed in clinical practice. It provides a non-invasive and accurate diagnosis of a variety of possible pathologies along the peripheral arteries and veins of the human body. 
Importantly, a variety of clinical applications can benefit from these tests, particularly for the assessment of Peripheral Arterial Disease or suspected PAD conditions in patients. And best of all, the procedures are also reimbursable.
Current Procedural Terminology, also known as CPT Codes, provides a set of codes used by the medical community and healthcare professionals to report procedures and services. One of the main roles of CPT codes is to serve as a key part of the reimbursement process as a harmonization and communication tool between providers, payers, or insurers.
CPT® is a registered trademark of the American Medical Association.
What are CPT Codes for Physiological Testing?
Vascular physiological examinations are a standard clinical procedure that is widely accepted and used around the world. The valuable clinical information that is provided is important for effective patient diagnosis and good medical practice for protecting the patient and improving the quality of life.
It is important to note that vascular physiologic testing is reimbursable in many countries under a variety of CPT codes.
Specifically, in the USA, the Falcon vascular machine is reimbursed under three different CPT codes. We prepared a summary of the CPT codes in the sections below.
CPT Code 93922 is defined as Limited Bilateral Non-Invasive physiologic examination of the upper or lower Arterial system; single level. You can perform the exam with a non-ultrasound doppler that is separate and distinct from an ultrasound machine. 
For a lower arterial assessment, the facility must obtain bilateral Bidirectional Doppler Waveforms at the DP (Doraslis Pedis Artery) and PT (Posterior Tibial artery) and or Ankle PVR waveforms & Brachial Pressures with Doppler on both arms and pressure of both the Posterior Tibial and Dorsalis Pedis or Peroneal arteries.
An ABI must be calculated and documented for all four pressures at the ankle. While PPG waveforms of the digits are considered diagnostically valuable, the PPG waveforms for ABI's are NOT considered a reimbursable waveform and are not viable for taking a reimbursable ABI.
Finally, all exams must be well documented on paper or be viewed via a DICOM or EMR Viewer
CPT Code 93923 is defined as Complete Bilateral Non-Invasive physiologic examination of the upper or lower Arterial system or evoked potential of lower or upper arterial system. 
A complete segmental evaluation of the lower extremities must include the diagnostic bilateral ABI exam as described in CPT 93922, plus bidirectional Doppler waveforms or PVR's from at least four additional locations. I.E., Bilateral Calf and Thigh PVR's or Bidirectional Doppler waveforms at the SFA and Popliteal arteries.
You may take pressure measurements at those four additional locations, but it is not required.
Evoked potentials such as Radial Artery/Palmar Arch assessment, T.O.S Exams, Reactive Hyperemia, Toe Raises, and Raynaud's testing all fall under the evoked potential category.
Finally, all exams must be well documented on paper or be viewed via a DICOM or EMR Viewer.
CPT Code 93924 is defined as Post Exercise Physiologic Exam. 
The exam includes a resting ABI and everything specified in CPT 93922, plus a regimented exercise protocol.
The Exercise must be performed using a treadmill and must have a controlled protocol established by the medical institution. I. E. Treadmill speed of 2.0 MPH, 10 % incline for 3 minutes with subsequent ABI's being taken immediately after exercise and every 3 minutes until the patient's pressures return to pre-exercise values.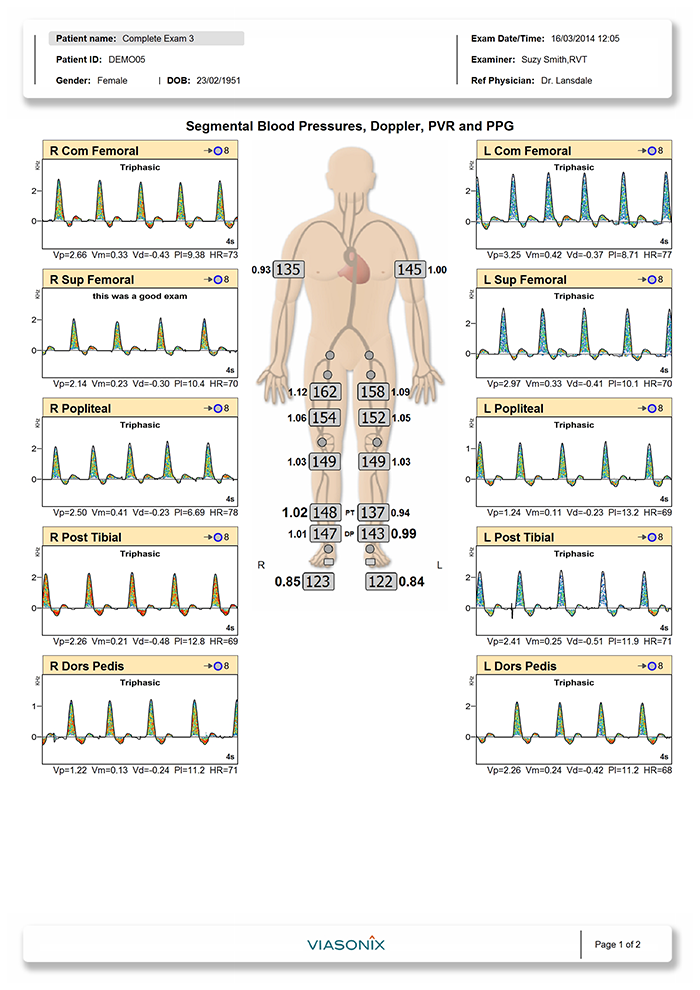 What is Required for Reimbursement of Physiologic Studies?
The main requirement is to have a Physiologic Diagnosis System (PVD Machine), such as the Falcon machine, that includes the ability to measure quickly and effectively the range of CPT requirements.
A typical ABI machine that complies with these requirements supports tests such as:

Ankle Brachial Index (ABI), 

Segmental blood pressures (SBP), 

Vascular Stress Tests, 

Thoracic Outlet Syndrome (TOS), 

Raynaud's Phenomenon, 

Allen's Test, 

Pulse Volume Recording (PVR), 

Toe Brachial Index (TBI), 

Doppler waveform measurements, and more.  
Depending on the Vascular CPT Code, you will need a Physiologic testing machine that supports specific clinical applications as detailed above.
Can Standard Ultrasound Machines be Used for these Specific CPT Codes?
No. The 93922, 93923, and 93924 CPT codes are meant to be diagnosed with non-imaging techniques. Ultrasound Imaging machines are not suitable or capable of stress testing and other physiological measurements, such as PVR, TOS with PPG sensors, etc.
Can Simple Hand Held Dopplers be Used for these CPT Codes?
No. The Hand Held Dopplers that only produce audio cannot be used with 93922, 93923, and 93924 codes due to their limited reporting capability.
What are the Benefits of Using CPT Codes with Physiological Vascular Equipment?
Improved patient care is a key benefit of using 93922, 93923, and 93924, which can provide patients with fast and non-invasive diagnosis of the peripheral vascular system. 
Additionally, a quick Return on Investment (ROI) for improved profitability for your institute is another key benefit of using these codes.
Because of these benefits, you can find a PAD system or multiple such machines, specifically the Falcon, in numerous healthcare institutes, ranging from large universities to small clinics.